See on Scoop.it – Social media and Marketing Spyglass Measurement and Analytics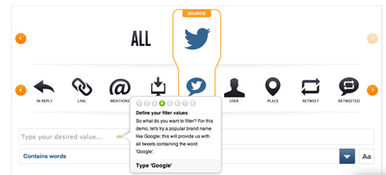 Datashift has released a new query builder for customers working with social media. It answers a simple question: what do you do as a company, with all that data, all the Tweets, Facebook and blog comments about you?
Marty Note
We will know we've arrived at our destination when the phrase "social media" is dead and gone. Social media is NOT NEW. It has been known by many names such as customer service, Dale Carnegie and the Golden Rule, but NEW not so much.
Yes the tools are new. We are like small children at Christmas both elated and confused about what present to open first. Once opened our confusion moves to what new thing to play with first.
Between NOW and THEN, the day "social media" ceases to exist as a term with meaning, we will go down many wrong roads. We will hold our heads in our hands and worry about ROI. We will do the WRONG things in the WRONG ways. We will break our favorite toy or two or three.
Our journey should look for the blinking TRY THIS signs. I saw the blinking sign for DataSift and it is worth a look because of this paragraph:
In the talk, he (DataSift CEO) pointed out that companies who handle social media well do more than just respond to negative tweets and comments. For their biggest fans they enter into conversations, learning as much as possible, often giving them great service. He gave as an example the chasm between United Airlines, which didn't seem to care what he tweeted about them, and Virgin America, who responded to a tweet concerning a cancelled flight by booking him on a new one.
YES social media is a CONVERSATION!
If large brands or you or me treat social with the same arrogance used for most branding and marketing…..well good luck with that. Arrogance ain't working so well in case you missed the memo.
I promise to check out Datasift and report back. They got me, know let's see that the do with me :).
See on blog.programmableweb.com